With spring finally here, there's no better time to refresh your home and start the warmer months off with a clean slate by opting for a professional cleaning. Zerorez® offers whole-home cleaning services that are designed to give your home a deep and thorough clean that will leave it looking-and feeling-like new.

You don't have to bear the weight of deep cleaning your home by yourself! Our list of services and benefits of professional cleaning includes:

A healthier home with Zerorez® Upholstery Cleaning
A clean home is a healthy home. Our cleaning services can help eliminate the dust, dirt, and grime that builds up on your furniture. Our upholstery gets used on a daily basis, causing oil, dead skin, and other particles to build up day after day. An upholstery cleaning helps reduce the amount of non-living allergens and dust that you breathe in.






Enhanced appearance with Zerorez® Carpet Cleaning
A deep clean can make a huge difference in the appearance of your home. Our services can help remove spots, dirt, and grime from carpet and other surfaces, leaving your home looking fresh and clean. Zerorez® prides itself on leaving Residue Free® surfaces, making your home feel brighter and fresher than we found it.






Longer-lasting cleans with Zerorez® Tile and Grout Cleaning
Regular cleaning can help extend the life of your flooring, especially if there is no residue that gets left behind. Our services can help remove dirt and grime that can damage these surfaces, helping to maintain their appearance and function. Additionally, we offer a layer of protection for your tile and grout to prolong the clean while protecting your tile from scuffs and scratches.






Improved air quality with Zerorez® Air Duct Cleaning
Over time, dust, dirt, and allergens can accumulate in your home, leading to poor indoor air quality. Our air duct cleaning can help eliminate these lingering particles, improving the air quality in your home. For a truly deep clean, be sure to have your air ducts cleaned to prevent the dust and dirt from continuing to circulate throughout your home after having your upholstery and carpets cleaned. *Check with your local Zerorez® to see if Air Duct Cleaning is available near you.*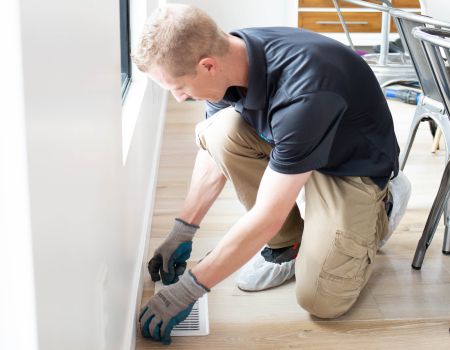 At Zerorez®, we use our Zr Water® technology to clean your home without the use of harsh chemicals, soaps, or detergents. Our advanced cleaning equipment is designed to provide a deep and thorough clean, revealing a brighter, healthier home.

Don't let a dirty home keep you from getting outside and doing all the things you love. Contact Zerorez® today to schedule your whole-home cleaning service and Experience Clean®.